TPA Offices and Meetings to Relocate to Downtown WPB in 2019
| | |
| --- | --- |
| | On Oct. 18, the TPA Governing Board agreed to lease a vacant building at 301 Datura St. at the corner of Olive Ave. in downtown West Palm Beach. The building will be renovated to house the TPA offices and meeting space for Governing Board and advisory committee meetings. The TPA offices are currently located in the Palm Beach County Vista Center at 2300 N. Jog Rd. The locations for TPA Governing Board meetings will continue to rotate throughout Palm Beach County until mid-2019. Click to view the presentation. |
_________________________________
Mobility in the Gardens Design Update - Oct. 25
The City of Palm Beach Gardens and Treasure Coast Regional Planning Council will present a design update on transportation and transit-oriented development (TOD) around a future Tri-Rail Station along PGA Blvd. Click for more information or click for a PDF flyer.
_________________________________
FDOT and Partners Celebrate Mobility Week Oct. 27 - Nov. 3
_________________________________
Safe Streets Summit - Early Bird Registration Ends Dec. 1
Sponsorship Opportunities Are Still Available
Click for early bird registration by Dec. 1 for the conference and/or mobile workshops.
Click for sponsorship opportunities to join this growing list of regional Safe Streets Summit sponsors for 2019:
DIAMOND: Intercontinental Miami
PLATINUM: Miami DDA
GOLD: The Corradino Group
SILVER: Keith; MRG Media Relations Group; Weiss, Serota, Helfman, Cole & Bierman; Tindale Oliver; Stantec; Broward County Transit; South Florida Regional Transportation Authority
BRONZE: Kittelson & Associates; Calvin, Giordano & Associates; CTS Engineering; Protean Design Group; Citizens' Independent Transportation Trust; Sun Trolley
_________________________________
2019 TPA Project Funding Cycle Workshop - Dec. 14
Click here for program details and click here for a PDF flyer.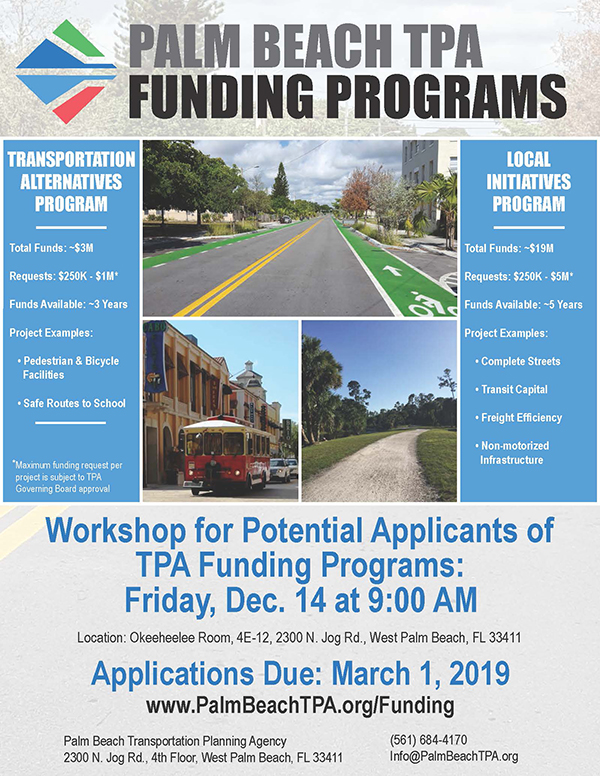 _________________________________
Walk Friendly Communities Program Applications Due Dec. 15
Walk Friendly Communities (WFC) is a national recognition program developed to encourage cities and towns across the United States to develop and support walking environments with an emphasis on safety, mobility, access, and comfort. Sponsored by Fed Ex and managed by the University of North Carolina Highway Safety Research Center since 2010, the program distinguishes communities leading the way in walkability and seeks to share their stories to inspire other communities. Cities and towns interested in joining the ranks of Walk Friendly Communities are encouraged to submit an application by Dec. 15. Visit WalkFriendly to learn more.
_________________________________
How Would You Tell Officials to Improve Transportation?
Are you part of a local government, a homeowners or neighborhood association, a business or civic organization or another group? Simply sharing a TPA website link in a newsletter or email can give many more Palm Beach County travelers an easy opportunity to share their transportation priorities with officials and decision-makers. Just ask your audience to go to PalmBeachTPA.org/participate for links to the brief survey in either English or Spanish. Please be sure to take the survey yourself and share with family, friends or co-workers!
_________________________________
TPA Honors Michael Busha, Treasure Coast RPC
On Oct. 18, the TPA honored Michael Busha, Executive Director of the Treasure Coast Regional Planning Council (TCRPC). Mr. Busha retires after more than 36 years on the staff of the TCRPC, a longtime TPA planning partner. He has worked to improve the transportation system in Palm Beach County and the surrounding region and has impacted transportation planning at the state and national level as a charter member of the Congress for the New Urbanism.
_________________________________
TPA Honors Term-Limited Commissioners
Term-limited Palm Beach County Commissioners Steven Abrams and Paulette Burdick were recognized for their years of service on the TPA Governing Board at the Oct. 18 meeting.
(L-R) Palm Beach Gardens Mayor Maria Marino; Palm Beach County Commissioners Steven Abrams, Hal Valeche, and Paulette Burdick; and TPA Executive Director Nick Uhren. Commissioner Valeche serves as the TPA Chair and Mayor Marino serves as the TPA Vice Chair.
_________________________________
1000 Friends of Florida Sustainability Workshop
TPA Executive Director Nick Uhren served as a panelist for an environmental sustainability workshop sponsored by 1000 Friends of Florida on Oct. 5.
The public is encouraged to attend FDOT public meetings for specific projects of interest. Click for details for scheduled FDOT project meetings.

Go to PalmBeachTPA.org/Meeting to access online agendas, backup materials, presentations, minutes and audio recordings of past meetings of the Governing Board, advisory committees, and the Transportation Disadvantaged Local Coordinating Board. Members of the public are encouraged to attend all meetings of these Boards and committees, as well as ad hoc committee meetings or workshops publicly noticed on PalmBeachTPA.org.
Complete TPA calendar listings: PalmBeachTPA.org/calendar
_________________________________
The TPA Governing Board Welcomes New Wellington Representative Councilman Michael Napoleone

TPA Governing Board Presentations

Click links to view/download the following presentations from the meeting held Oct. 18, 2018, at the South County Civic Center, west of Delray Beach:
Go to PalmBeachTPA.org/jobs for complete job descriptions and instructions to apply.