Next TPA Governing Board Meeting - Oct. 18
Next TPA Governing Board Meeting - October 18, 2018, 9:00 AM
Meeting location (this meeting only):
South County Civic Center, 16700 Jog Rd., Deray Beach, FL 33446
_________________________________
PA to Host ADA Transition Plan Training - Oct. 11
The Palm Beach TPA will train local government and private sector representatives at an ADA transition plans workshop on Oct. 11. The instructor will be Dean Perkins, Florida Dept. of Transportation's ADA Coordinator. The time will be 8:30 AM to 12:30 PM, and the location will be on the first floor of the Vista Center at 2300 N. Jog Rd., West Palm Beach, FL 33411. Even those who have not pre-registered are welcome to attend.
The Palm Beach TPA is required by federal agencies to sign assurances that all recipients of federal funds allocated by the TPA have ADA transition plans in place. ADA transition plans outline a jurisdiction's assessment and plans for bringing their infrastructure into compliance with the requirements of the Americans with Disabilities Act (ADA). Click here for additional information on requirements.
_________________________________
Walk Friendly Communities Program Applications Due Dec. 15
Walk Friendly Communities (WFC) is a national recognition program developed to encourage cities and towns across the United States to develop and support walking environments with an emphasis on safety, mobility, access, and comfort. Sponsored by Fed Ex and managed by the University of North Carolina Highway Safety Research Center since 2010, the program distinguishes communities leading the way in walkability and seeks to share their stories to inspire other communities. Cities and towns interested in joining the ranks of Walk Friendly Communities are encouraged to submit an application by Dec. 15. Visit WalkFriendly to learn more.
_________________________________
Share a Link, Share an Opportunity
Are you part of a local government, a homeowners or neighborhood association, a business or civic organization or another group? Simply sharing a TPA website link in a newsletter or email can give many more Palm Beach County travelers an easy opportunity to share their transportation priorities with officials and decision-makers. Just ask your audience to go to PalmBeachTPA.org/participate for links to the brief survey in either English or Spanish. Please be sure to take the survey yourself and share with family, friends or co-workers!
_________________________________
Miami Safe Streets Summit Offers Sponsor Opportunities
Click for sponsorship opportunities
Walk to School Day
| | |
| --- | --- |
| | Wearing shirts with safety messages for drivers and walkers, Palm Beach TPA Governing Board members and staff participated in the 22nd annual national Walk to School Day event at H.L. Johnson Elementary School in Royal Palm Beach on Oct. 10, 2018. Participants included Royal Palm Beach Mayor Fred Pinto, a TPA Governing Board representative, and Council Member Jeff Hmara, a TPA Alternate. |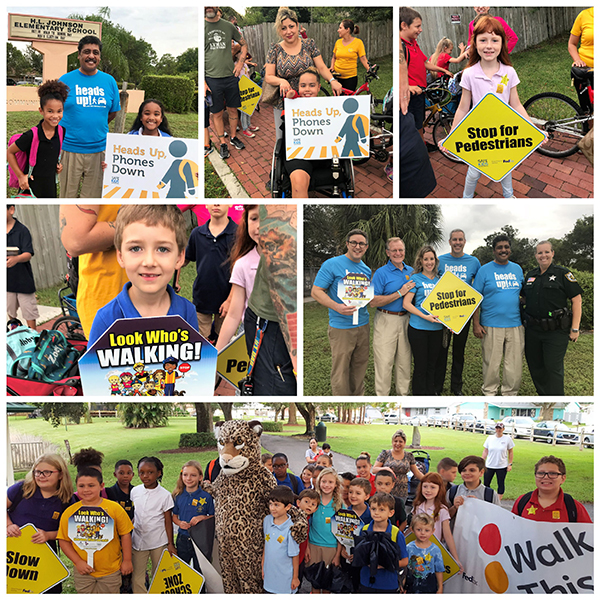 The public is encouraged to attend FDOT public meetings for specific projects of interest. Click for details for scheduled FDOT project meetings.

Go to PalmBeachTPA.org/Meeting to access online agendas, backup materials, presentations, minutes and audio recordings of past meetings of the Governing Board, advisory committees, and the Transportation Disadvantaged Local Coordinating Board. Members of the public are encouraged to attend all meetings of these Boards and committees, as well as ad hoc committee meetings or workshops publicly noticed on PalmBeachTPA.org.
Complete TPA calendar listings: PalmBeachTPA.org/calendar