Safe Streets Summit Early Bird Registration ends Dec. 1
Register for the conference (Feb. 25) and mobile workshops (Feb. 26) at
SafeStreetsSummit.org
Click for sponsorship opportunities to join a growing list of regional sponsors!
_________________________________
Older Driver Safety Awareness Week - Dec. 3-7
Click image for information, local events and resources.
_________________________________
2019 TPA Project Funding Cycle Workshop - Dec. 14
Click here for program details and click here for a PDF flyer.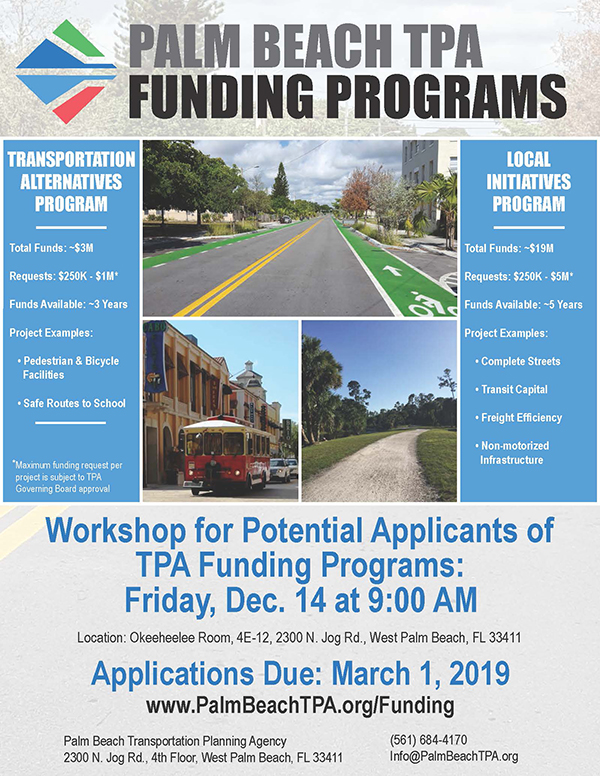 _________________________________
Walk Friendly Communities Program Applications Due Dec. 15
Walk Friendly Communities (WFC) is a national recognition program developed to encourage cities and towns across the United States to develop and support walking environments with an emphasis on safety, mobility, access, and comfort. Sponsored by Fed Ex and managed by the University of North Carolina Highway Safety Research Center since 2010, the program distinguishes communities leading the way in walkability and seeks to share their stories to inspire other communities. Cities and towns interested in joining the ranks of Walk Friendly Communities are encouraged to submit an application by Dec. 15. Visit WalkFriendly to learn more.
_________________________________
TPA Transportation Survey Remains Open Through Dec. 31
Are you part of a local government, a homeowners or neighborhood association, a business or civic organization or another group? Simply sharing this TPA website link in a newsletter or email can give many more Palm Beach County residents an easy opportunity to share their transportation priorities with officials and decision-makers. Just ask your audience to go to PalmBeachTPA.org/participate for links to the brief survey in either English or Spanish. Please be sure to take the survey yourself and share with family, friends or co-workers!
The public is encouraged to attend FDOT public meetings for specific projects of interest. Click for details for scheduled FDOT project meetings including those listed below:
Nov. 27 - Swinton Ave. Project Open House in Delray Beach

Dec. 6 - FDOT District 4 Tentative Work Program Public Hearing & Webinar
TPA Honors the Life of Transit Advocate Stanley Voice
At the Transportation Disadvantaged Local Coordinating Board (LCB) meeting held on Nov. 14, the TPA presented a plaque to the family of Stanley Voice, a tireless advocate for Palm Beach County's transit and paratransit services for 25 years. Mr. Voice passed away on Nov. 4 at age 95, but his lasting impact will remain.
| | |
| --- | --- |
| Plaque presented to the family of Stanley Voice includes images from the 2015 Rolling Retreat. | L-R: RoseAnn Voils (Palm Tran); Angela Morlok (LCB member); Boynton Beach Mayor and LCB Chair Steven Grant; Stanley Voice's granddaughter and daughter Kelly Voice; TPA Executive Director Nick Uhren; and TPA Public Relations Manager Malissa Booth. |
________________________________
Alliance of Delray Residential Associations
On Nov. 7, TPA Executive Director Nick Uhren and Palm Beach County Engineer David Ricks presented transportation updates on projects including Atlantic Ave. and the expansion of Florida's Turnpike to the Alliance of Delray Residential Associations.
_________________________________
SR-80/ Southern Blvd. Corridor Workshop
On Nov. 8, the TPA supported a workshop presented by the Central Palm Beach County Chamber of Commerce for business leaders and stakeholders along the SR-80 corridor.

Go to PalmBeachTPA.org/Meeting to access online agendas, backup materials, presentations, minutes and audio recordings of past meetings of the Governing Board, advisory committees, and the Transportation Disadvantaged Local Coordinating Board. Members of the public are encouraged to attend all meetings of these Boards and committees, as well as ad hoc committee meetings or workshops publicly noticed on PalmBeachTPA.org.
Complete TPA calendar listings: PalmBeachTPA.org/calendar
Go to PalmBeachTPA.org/jobs for complete job descriptions and instructions to apply.