Click here to review previous issues or to view this issue using Google Translate.
_____________________________________
TPA Governing Board Meeting - June 20 at 9:00 AM
To review or print agendas and backup materials one week prior to a TPA meeting, go to PalmBeachTPA.org/meeting.
Members of the public are encouraged to attend meetings, and will be given opportunities to ask questions or make comments on any agenda item, or to offer general comments that are relevant to the mission and responsibilities of the TPA.
Transportation Improvement Program (TIP)
The draft Transportation Improvement Program (TIP) for Fiscal Years 2020-2024 will be considered for adoption by the TPA Governing Board at their meeting on June 20 in Belle Glade. See full meeting details listed above.

The TIP includes transportation projects funded by federal, state and local sources for all modes of transportation. The TIP reflects revenue expectations for the next five fiscal years and shows phases and funding sources by year for each project. The draft TIP and Executive Summary may be viewed at PalmBeachTPA.org/TIP, where public comment opportunities are listed, including a convenient online public comment form.
_____________________________________
2045 Long Range Transportation Plan (LRTP)
| | |
| --- | --- |
| | The TPA is progressing in the development of its next Long Range Transportation Plan (LRTP) with a horizon year of 2045. Monitor the schedule and provide feedback on LRTP presentations to the TPA Governing Board and its advisory committees. View agendas, backup materials, meeting minutes and presentation slides at PalmBeachTPA.org/meeting. Learn more and view the currently adopted and previous LRTP documents at PalmBeachTPA.org/LRTP. |

Vision Zero Beginner Bicycling Events to Promote Safety
The Palm Beach TPA will participate in the following City of West Palm Beach free summer events to promote safe bicycling for beginners. Free bike helmets with fitting will be available at each event, while supplies last. Click for flyer with complete details.
Saturday, June 15 - Bicycle Rodeo - The City Center Courtyard
Saturday, June 22 - Bicycle Instructional Day - The City Center Courtyard
Saturday, July 20 - Bicycle Rodeo - South Florida Science Center & Aquarium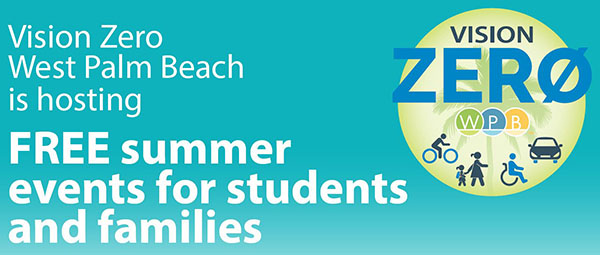 _____________________________________
New Texting While Driving Law Takes Effect July 1
In an effort to curtail traffic deaths and serious injuries that result from distracted driving, Florida became one of the last states to make texting while driving a primary traffic offense when Governor Ron DeSantis signed a new bill, CS/HB 107 Wireless Communications While Driving, on May 17, 2019. The new law will go into effect on July 1, but warnings will be issued during a grace period to educate drivers.

The Florida Department of Highway Safety and Motor Vehicles found more than 170 crashes were caused by people who were texting and driving in 2018.

Additionally, the new bill also bans the use of any handheld wireless communications device for both talking or texting while driving in a designated school zone or work zone while workers are present or operating equipment. That provision takes effect on October 1.

Otherwise, drivers can continue to navigate, make phone calls and read emergency messages such as weather alerts. Drivers may still use their phones when their vehicle is stationary or stopped at a traffic light. However, drivers are encouraged to use "hands-free" features to further reduce the hazards of distracted driving.
_____________________________________
South Florida GIS Expo - August 22-23
"Step Through the Portal" will be the theme for the 26th South Florida GIS Expo. The Expo will be held at the Palm Beach County Convention Center, and will be an annual gathering of more than 600 members of south Florida's GIS community. The Expo fosters collaboration, coordination, networking, education and training. For details including the keynote speaker, photos of the 2018 Expo and for free registration, go to sfgisexpo.com. Businesses or local governments interested in sponsorship and exhibiting opportunities, click here.
The South Florida GIS Expo is hosted by the Palm Beach Countywide GIS Forum, a nonprofit organization of geospatial professionals who work to develop, publish, distribute and use geospatial information. Anyone interested in developing, using or otherwise interacting with GIS software is welcome to join. Membership is free and participation is an excellent way to earn credits towards GIS Professional (GISP) Certification. Learn more about membership. The next meeting will be held on June 20. Click for meeting details.
_____________________________________
Decorative Art on Traffic Signal Control Cabinets
Palm Beach County has established a standard interlocal agreement to allow municipalities to "wrap" traffic signal control cabinets with decorative art to integrate civic art into public infrastructre and enhance the appearance of the public right-of-way.

Please email Melissa Ackert, Assistant Director of the Palm Beach County Traffic Division, or call 561-684-4030 for details.
_____________________________________
Virgin Trains/ Brightline
One year has passed since the opening of what is now known as the Virgin MiamiCentral station, as Brightline continues its rebranding and renaming to Virgin Trains USA. That opening completed Phase 1, to connect south Florida with stations in West Palm Beach, Fort Lauderdale and Miami.
Touted as "the only privately owned, operated and maintained express inter-city train service in the United States," the company has just announced construction contractors for its Phase 2 expansion to connect south Florida to Orlando - including 170 miles of new track - to lead into the already completed state-of-the-art intermodal facility located in the new South Terminal at the Orlando International Airport.
Northern Palm Beach County is expected to see Phase 2 construction begin later this year with completion expected to take 36 months. As in the initial phase, the Palm Beach TPA is positioned to fund supplemental safety measures at grade crossings sufficient to meet requirements for Quiet Zones, if desired by the local governments who must apply for them. Quiet Zones are designated sections of railway where the routine blowing of train horns is replaced by infrastructure upgrades for increased safety.
Ali Soule, the company's Chief of Staff, provided an update on May 16 to the TPA Governing Board. Click to review the slide presentation.

SR 800/ Spanish River Blvd. Bridge Painting Project (Boca Raton)
Over the Intracoastal Waterway
Open House Workshop
Click here for additional details.

Wednesday, June 19
5:00 - 7:00 pm
Boca Raton Public Library
Downtown Branch
400 NW 2nd Ave.
Boca Raton, FL 33432
Click for Google maps

SR 5/ US-1 (Delray Beach to Boynton Beach)
George Bush Blvd. in Delray Beach to Murano Bay Dr. in Boynton Beach
Open House
Click here for additional details.

Thursday, June 20
5:00 - 7:00 pm
Town of Hypoluxo Council Chambers
7580 S. Federal Hwy.
Hypoluxo, FL 33462
Click for Google maps

SR 25/ US 27 (South Bay)
From the Broward/ Palm Beach County line to Mile Post 16.626
Public Hearing
Click here for additional details.

Thursday, June 27
2:00 pm
South Bay City Hall
335 SW 2nd Avenue
South Bay, FL 33493
Click for Google maps
_____________________________________
Click here to review details of upcoming FDOT meetings and proposed projects in FDOT District Four which includes Palm Beach County.

Upcoming TPA Meetings
_____________________________________
The 2019 calendar of TPA meetings is available at PalmBeachTPA.org/calendar
Go to PalmBeachTPA.org/Meeting to access online agendas and backup materials (posted one week in advance of each meeting), and presentations, minutes and audio recordings of past meetings of the Governing Board, advisory committees, and the Transportation Disadvantaged Local Coordinating Board. Members of the public are encouraged to attend all meetings of these Boards and committees, as well as ad hoc committee meetings or workshops publicly noticed on PalmBeachTPA.org.