TPA Governing Board Meeting - Royal Palm Beach - Dec. 12
TPA Governing Board Public Meeting
Thursday, December 12, 2019 at 9:00 AM
Location (this meeting only):
Royal Palm Beach Cultural Center
151 Civic Center Way, Royal Palm Beach, FL 33411
Click for Google Maps
PalmBeachTPA.org/Board
_____________________________________________
TPA Opens New Downtown Office
301 Datura St., West Palm Beach, FL 33401
New telephone: 561-725-0800
Click here for updated staff contact list with direct telephone numbers.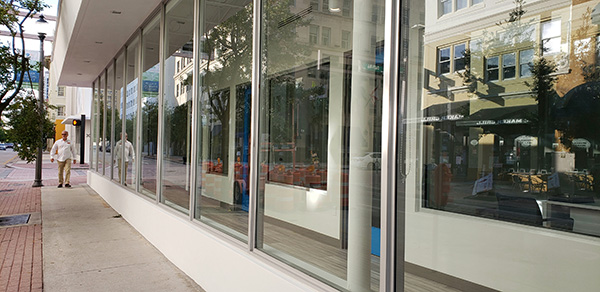 Above: Ground level TPA office at the corner of Datura St. and Olive Ave.
Below: TPA Technical Advisory Committee meeting at the new office on Dec. 4
Click here for printable map including transportation and parking options.
_____________________________________________
TPA Long Range Transportation Plan to be Adopted Dec. 12
| | |
| --- | --- |
| | The TPA Governing Board will adopt a 2045 Long Range Transportation Plan (LRTP) on Dec. 12. Meeting details are listed at the top and in the upcoming TPA meetings schedule below. Review draft documents and offer online public comments at PalmBeachTPA.org/LRTP. |
_____________________________________________
7th Annual Safe Streets Summit - Ft. Lauderdale
Feb. 6 - Mobile Workshops
(Separate Registration Required - Limited Space)
Feb. 7 - Conference Day
Register by Dec. 15 for Early Bird Rates:
SafeStreetsSummit.org/summit-registration
View Speaker Highlights:
SafeStreetsSummit.org
_____________________________________________
Safe Streets Summit Sponsor Opportunities
Check out sponsorship opportunities: SafeStreetsSummit.org/sponsorship
Does your agency or organization plan to send multiple staff members to the 2020 Safe Streets Summit? If so, take a look at the opportunities to upgrade your investment to a sponsorship that includes multiple registrations and provides visibility for your organization.
_____________________________________________
New This Year! Schedule a Mandatory Pre-Application Meeting
| | |
| --- | --- |
| | For the first time, potential applicants are required to schedule an appointment with the TPA and FDOT prior to submitting a funding application. Schedule your appointment today! Details at PalmBeachTPA.org/Funding |
_____________________________________________
FDOT Seeks Your Help to Update the Florida Transportation Plan
The Florida Department of Transportation's long-range plan guides Florida's transportation future, and affects every resident, business and visitor. Its goals impact our quality of life and economic prosperity. Share your thoughts to ensure that the updated Florida Transportation Plan reflects the needs of our communities. Click here for a flyer to post or share or click here to provide input.
_____________________________________________
Request a TPA Presentation
To request a TPA staff presentation for your community or organization,
please email Public Relations Manager Malissa Booth or call 561.725.0813.
Vision Zero Block Party on Broadway in West Palm Beach
The TPA participated in the City of West Palm Beach's Vision Zero block party held Nov. 16 along Broadway. To promote safety, the TPA distributed bike lights, neon shirts, and backpacks with reflective strips to alert drivers to bicyclists and pedestrians including children and adults. The city and other exhibitors provided free bike helmets and safety information.
---
League of Cities Networking Event
The TPA continued its annual practice of providing reusable grocery tote bags for giveaways of produce grown by suppliers in Palm Beach County's western communities for the League of Cities Annual Holiday Networking Event held Dec. 6. The BBQ event was hosted by the cities of Belle Glade, Pahokee and South Bay at the Belle Glade Marina.
Top photo below: Belle Glade Mayor Steve Wilson welcomes guests, with League of Cities President and Royal Palm Beach Councilman Jeff Hmara looking on. Mayor Wilson is a member and Councilman Hmara is an alternate member of the TPA Governing Board.
Bottom photo below: Lake Park Vice Mayor Kim-Glas Castro (left), who serves as an alternate member for the Village of Palm Springs on the TPA Technical Advisory Committee, with TPA Governing Board Chair and Palm Beach Gardens Councilmember Maria Marino.
---
Leadership Lantana
The inaugural Leadership Program of the Greater Lantana Chamber of Commerce focused their Dec. 3 meeting learning about Government and Transportation at the TPA.

Upcoming TPA Board & Advisory Committee Meetings
Please note that all TPA meetings in 2020 are scheduled to be held at the new TPA office location at 301 Datura St., West Palm Beach, FL 33401 (corner of Olive Ave.)
Click here for printable map including transportation and parking options.
The public is encouraged to attend all of the following meetings, and will be offered an opportunity to speak on general transportation issues or on specific agenda items.
Meeting agendas are posted a week in advance.
Thursday, December 12

TPA Governing Board
Location (this meeting only):
Royal Palm Beach Cultural Center
151 Civic Center Way
Royal Palm Beach, FL 33411
Click for Google map

No January TPA Governing Board or Advisory Committee Meetings

Wednesday, February 5

Wednesday, February 5

Thursday, February 6

Thursday, February 6

Safe Streets Summit - Mobile Workshops

Friday, February 7

Safe Streets Summit - Conference Day

Wednesday, February 12
_____________________________________________
The TPA calendar of meetings is available at PalmBeachTPA.org/calendar
Go to PalmBeachTPA.org/Meeting to access online agendas and backup materials (posted one week in advance of each meeting), and presentations, minutes and audio recordings of past meetings of the Governing Board, advisory committees, and the Transportation Disadvantaged Local Coordinating Board.
Members of the public are encouraged to attend all meetings of these Boards and committees, as well as ad hoc committee meetings or workshops publicly noticed on PalmBeachTPA.org. They will be given opportunities to ask questions or make comments on any agenda item, or to offer general comments that are relevant to the mission and responsibilities of the TPA.