TPA Governing Board Meeting in Jupiter - Dec. 13
Thursday, Dec. 13
9:00 AM

Location:
(this meeting only)
Jupiter Community Center
200 Military Trail
Jupiter, FL 33458

Agenda available at PalmBeachTPA.org/meeting
The public is encouraged to attend and will be given opportunities to speak.
________________________________
2019 TPA Project Funding Cycle Workshop - Dec. 14
Click here for program details and click here for a PDF flyer.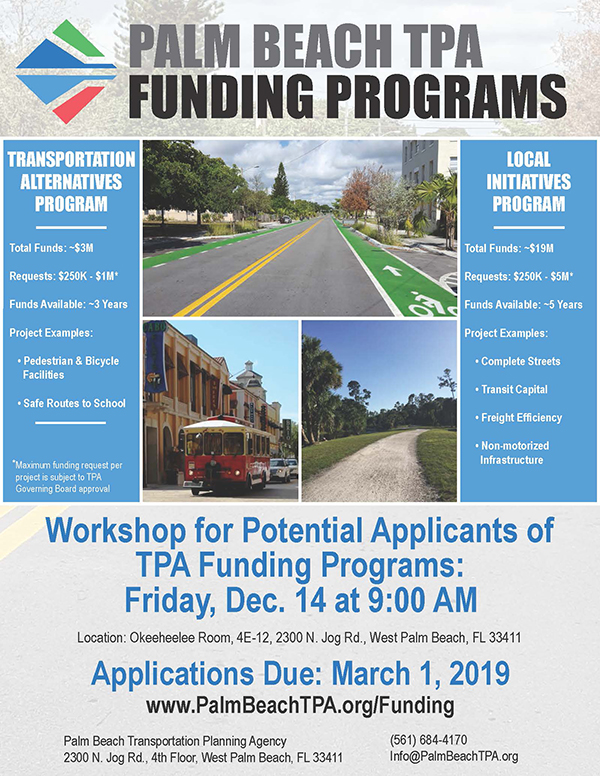 _________________________________
Public Comments on the FDOT 5-Year Work Program Due Dec. 16
Public comments are due by Dec. 16 to the Florida Dept. of Transportation after a public hearing/ webinar was held on Dec. 6 for the Draft Tentative 5-year Work Program. FDOT representatives will also present to the TPA Governing Board on Dec. 13, and hear TPA recommendations (meeting details are listed above).
_________________________________
TPA Transportation Survey Closes Dec. 31
Last chance!

Share your priorities with transportation officials.

Take the brief TPA survey in English or Spanish at
PalmBeachTPA.org/participate

Are you part of a local government, a homeowners or neighborhood association, a business or civic organization or another group? Simply sharing this TPA website link in a newsletter or email can give many more Palm Beach County residents an easy opportunity to share their transportation priorities with officials and decision-makers. Just ask your audience to go to PalmBeachTPA.org/participate. Share the survey link with family, friends or co-workers!
________________________________
Nominations for Safe Streets Summit Awards Due. Jan. 15
Register for the conference (Feb. 25) and mobile workshops (Feb. 26)
SafeStreetsSummit.org
Nominate individuals, communities, and projects for recognition!

Complete Streets Champion

---

Complete Streets Community

---

People's Choice Award for Best Project

Click for sponsorship opportunities to join a growing list of regional sponsors!
_________________________________
Beth Kigel Receives 2018 Leadership & Innovation Award
| | |
| --- | --- |
| | Palm Beach North Chamber of Commerce President and CEO Beth Kigel was presented with the 2018 Leadership & Innovation Award on Nov. 27 at the Florida Automated Vehicles Summit in Tampa. |
Palm Beach County Commissioner Gregg Weiss

Palm Beach County Commissioner Robert Weinroth

* Commissioner Weinroth previously represented the City of Boca Raton on the Palm Beach TPA Governing Board.
Coalition of Boynton West Residential Associations (COBWRA)
TPA Executive Director Nick Uhren encouraged participation in the TPA public survey at the monthly COBWRA meeting on Dec. 12.

The 2019 calendar of TPA meetings is available at PalmBeachTPA.org/calendar
Go to PalmBeachTPA.org/Meeting to access online agendas, backup materials, presentations, minutes and audio recordings of past meetings of the Governing Board, advisory committees, and the Transportation Disadvantaged Local Coordinating Board. Members of the public are encouraged to attend all meetings of these Boards and committees, as well as ad hoc committee meetings or workshops publicly noticed on PalmBeachTPA.org.
Go to PalmBeachTPA.org/jobs for complete job descriptions and instructions to apply.