Flagler Dr. Pop-Up Bike Lane Ends July 14
With signs and lots of bright orange traffic cones, the City of West Palm Beach has created temporary bike lanes on Flagler Dr., taking the full width of the inner traffic lanes between Okeechobee Blvd. and Banyan Blvd. The week-long transformation began July 7 and continues through July 14. "Pop-up" projects allow for quick, temporary design changes with minimal resources and no long-term commitments. The MPO is supporting the project with the temporary installation of bike counters to document public use. Pictured at the launch are Chris Benkly (left) and Julie Goforth. So take the scenic bike ride today before the lanes disappear, and tag your photos with #DowntownWPB.
__________________________________________
Green Bike Lanes Featured in MPO-Funded Project
The MPO's Transportation Alternatives Program allocated almost $750,000 in funding to the City of West Palm Beach for bicycle and pedestrian improvements for 15th St. from N. Dixie Hwy. west to Australian Ave. Green bike lanes, enhanced crosswalks, landscaped islands, street trees and on-street parking were recently installed to supplement the existing sidewalks. The project offers major benefits for pedestrians and bicyclists from surrounding neighborhoods for travel to the park and multiple schools that border 15th St.
____________________________________________
'The End of Automobile Dependence' Lecture - Aug. 9
Prolific author and local professor Peter Newman of the Center for Urban and Environmental Solutions at Florida Atlantic University will bring his North American Book Tour to West Palm Beach on Tuesday, Aug. 9 from 5:30-7:00 PM. Co-authored with Jeffrey Kenworthy, his latest book is titled 'The End of Automobile Dependence: How Cities are Moving Beyond Car-Based Planning.' The lecture will be sponsored in partnership with the West Palm Beach DDA and the Palm Beach County Planning Congress and will be held at Palm Beach Dramaworks, 201 Clematis St., West Palm Beach. The event is free, but advance registration is required. Click to register.
____________________________________________
MPO Transportation Photos Contest - Deadline Aug. 31
Professional and amateur photographers alike are encouraged to submit transportation photos of all travel modes in Palm Beach County. The MPO may use photo entries in future transportation documents or on the website and social media. Click for details.
_________________________________________
MPO Training and Conference Participation
The MPO continues to focus on training for its staff and Governing Board Members:
MPO Executive Director Nick Uhren and West Palm Beach Commissioner Shanon Materio participated in the National Association of Regional Councils 50th Annual Conference, June 26-29, 2016, Salt Lake City, UT
MPO Senior Planner Luke Lambert attended the Esri User Conference, June 27-July 1, 2016, San Diego, CA
MPO Executive Director Nick Uhren will attend the Floridians for Better Transportation Summit, July 18-20, 2016, St. Pete Beach, FL
Public Notice: Members of the public are encouraged to attend all meetings of the MPO Governing Board and its advisory committees and ad hoc committees. Please be advised that one or more members of the MPO Governing Board or any of its advisory committees may attend any of these meetings.
_________________________________________
Citizens Advisory Committee (CAC)
Wednesday, July 13, 1:30 PM
Location: MPO Conf. Room 4E-12, 2300 N. Jog Rd., West Palm Beach, FL 33411
Agendas and backup information are available at PalmBeachMPO.org/CAC
_________________________________________
MPO Governing Board
Thursday, July 21, 9:00 AM
Location: Palm Beach County Governmental Center
301 N. Olive Ave., 12th Floor Conf. Room, West Palm Beach, FL 33401
Agendas and backup materials are available at PalmBeachMPO.org/board
_________________________________________
Complete Streets Working Group
Tuesday, July 26, 2:00 PM
Location: Palm Beach MPO, 2300 N. Jog Rd., 4th Floor Conf. Rm.#4E-12,West Palm Beach, FL 33411
_________________________________________
Road Impact Fee Alternatives Ad Hoc Committee
Wednesday, July 27, 1:30 PM
Location: Palm Beach MPO, 2300 N. Jog Rd., 4th Floor Conf. Rm.#4E-12,West Palm Beach, FL 33411
Description: This will be the second meeting to review alternatives to the current road impact fee system used in Palm Beach County in order to mitigate multimodal impacts of new development. Representatives from Palm Beach County and eight municipalities attended the first meeting which was held on June 13.
____________________________________________
Complete calendar of all MPO meetings, events and related community activities:
PalmBeachMPO.org/calendar

US-1 from Beach Rd. to County Line Rd. in Tequesta
Tuesday, July 19
Open House 6:00 - 7:30 PM
Location: Village of Tequesta, Village Hall Council Chambers, 345 Tequesta Dr., FL 33458
An informal open house has been scheduled for the public by the Florida Dept. of Transportation (FDOT) to discuss upcoming improvements to the US-1 corridor through the Village of Tequesta. The improvements will transform the area from a commercial corridor built for cars to a more complete streets design to make the area safer and more attractive for pedestrians and bicyclists, better serving the current needs of residents and creating a more vibrant downtown. The project will narrow the section of US-1 from six to four lanes and will add buffered bike lanes in each direction, wider sidewalks, stamped pavement crosswalks, and a new traffic signal and pedestrian scale lighting at the intersection of US-1 and Tequesta Dr. These improvements are scheduled to be under construction from Fall 2017 until Fall 2018. Click for notice of Open House.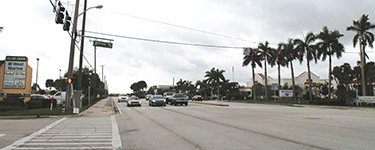 US-1 at Tequesta Drive: Existing conditions and conceptual view of future improvements.
____________________________________________
I-95 Interchanges at Boynton Beach Blvd. and Gateway Blvd.
Thursday, July 28
Alternatives Public Workshop 5:30 - 7:30 PM
Location: Inn at Boynton Beach, 480 W. Boynton Beach Blvd., Boynton Beach, FL 33435
The Florida Dept. of Transportation (FDOT) invites you to an Alternatives Public Workshop for an update on the Project Development and Environment (PD&E) Study for improvements at the existing I-95 Interchanges at Boynton Beach Blvd. and Gateway Blvd. A PD&E Study is the process followed by FDOT to evaluate social, economic and environmental impacts associated with a planned transportation improvement project. The purpose of this meeting is to give interested persons an opportunity to comment and provide input on the transportation improvement alternatives that have been developed at this point in the study.The Alternatives Public Workshop will begin as an open house at 5:30 PM with a short presentation at 6:00 PM, followed by a question and answer period. For additional information, go to the project website link at www.95gatewayboynton.com. Click for notice of Public Workshop.
Public Notice: Access online agendas, backup materials, presentations, minutes and audio recordings of past meetings of the MPO Governing Board, MPO advisory committees, and the Transportation Disadvantaged Local Coordinating Board: PalmBeachMPO/meeting
____________________________________________
Transportation Disadvantaged Local Coordinating Board (LCB)
June 27 Meeting Highlights:
Approved the 2015-2016 Community Transportation Coordinator (CTC) Evaluation - Click to view presentation
Approved a 2016-2017 Trip and Equipment Grant
Amended the 2015-2016 Transportation Disadvantaged Service Plan (TDSP)
____________________________________________
Southeast Florida Transportation Council (SEFTC)

July 1 Meeting Highlights:
Adopted a Transportation Regional Incentive Program (TRIP) Priorities Project List for FY 2017-2021
Heard a presentation on the results and study recommendations of the Storm Surge, Sea Level Rise and Transportation Network Disruption project
Provided an update on the Southeast Florida Regional Travel Survey
Provided an update on the Regional Fare Interoperability Project
Description: SEFTC was formed in 2005 to serve as a formal forum for policy coordination and communication to carry out regional initiatives agreed upon by the MPOs from Palm Beach, Broward, and Miami-Dade Counties. For more info: www.SEFTC.org
____________________________________________
MPO Technical Advisory Committee (TAC)
and Bicycle-Trailways-Pedestrian Advisory Committee (BTPAC)
July Meeting Highlights:
Click on each link below to view presentations given to one or more of the MPO advisory committees.