Federal & State Certifications
Federal Certification
Every four years, the Federal Highway Administration (FHWA) and the Federal Transit Administration (FTA) conduct a Federal Certification Review of the Palm Beach TPA. The main purpose of the review is to certify that the Palm Beach TPA is satisfactorily meeting the planning requirements as defined in Federal laws and regulations. This process also provides FHWA and FTA the opportunity to add value to the TPA's planning process through the sharing of best practices, techniques, and/or technology.
2019 Federal Certification Review
A Federal Certification Review is underway for 2019. A Federal Certification Review team met with the Palm Beach TPA staff on April 10-11, 2019, and will present a final report at a public meeting of the TPA Governing Board in Fall 2019.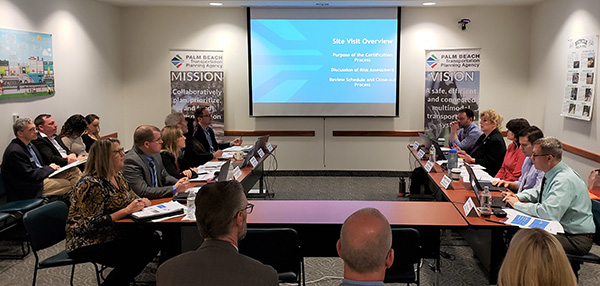 Presentations provided by the Palm Beach TPA to the Federal Certification Team:
Click hyperlinks to view presentations.
Previous federal certification:
The last review took place in May 2015, and the final closeout report was presented to the TPA Governing Board on Feb. 18, 2016.
Joint TPA and State Certification
Pursuant to 23 CFR 450.336(a), the TPA and the State (through the Florida Department of Transportation, or FDOT) conduct a joint review, evaluation, and certification concurrent with the submittal of the entire proposed TIP that the metropolitan planning process is being carried out in accordance with all applicable requirements. In Florida, the TIP is updated annually so the joint certification process is also conducted annually.