The Draft Fiscal Year 2023-2027 TIP is now open for public review. The first draft will be presented in May 2022 and the final review will be presented in June during the TPA advisory committees and Governing Board meetings.
---
Join the TPA for a virtual Vision Zero workshop on May 13 from 2 - 4 p.m. to learn about best practices and funding opportunities to advance transportation safety in your community. The workshop will include presentations from the Vision Zero Network, Federal Highway Administration, Vision Zero municipalities, and TPA. Register Here
---
Watch TPA Meetings Live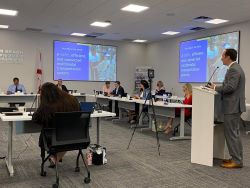 Palm Beach TPA Governing Board and Committee meetings are streamed on our website. To see upcoming meeting dates and times and to watch meetings live, visit PalmBeachTPA.org/LIVE.
---
Upcoming Meetings
TPA Executive Committee Meeting - May 3 at 3 p.m.
Technical Advisory Committee (TAC) - May 4 at 9 a.m.
Citizens Advisory Committee (CAC) - May 4 at 1:30 p.m.
Vision Zero Advisory Committee (VZAC) - May 5 at 9 a.m.
Palm Beach TPA Governing Board - May 19 at 9 a.m.
Transportation Disadvantaged Local Coordinating Board (LCB) - May 25 at 2 p.m.
---
2022 TPA Meetings Calendar
The 2022 TPA Meetings Schedule has been posted to the website at the Calendar link, including a single-page printable version for the year. Please note that updates occasionally become necessary and are noted by a revision date.