2022 Safe Streets Summit
Registration is now open for the 2022 Safe Streets Summit! Join us on February 17-18, 2022 and support the advancement of Complete Streets! To register and for more information on the visit SafeStreetsSummit.org.
---
COVID-19 Impacts on Transportation
This report examines the transportation, safety, and economic trends during the pandemic, citing data between February 2020 and February 2021.
---
Watch TPA Meetings Live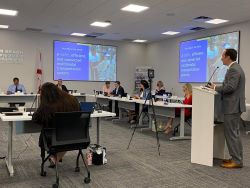 Palm Beach TPA Governing Board and Committee meetings are streamed on our website. To see upcoming meeting dates and times and to watch meetings live, visit PalmBeachTPA.org/LIVE.
---
Community Profiles Dashboard
The Community Profiles Dashboard provides easy access to socioeconomic data, maps of transportation facilities, and Transportation Improvement Program (TIP) projects for each municipality and County commission district.
---
2022 TPA Meetings Calendar
The 2022 TPA Meetings Schedule has been posted to the website at the Calendar link, including a single-page printable version for the year. Please note that updates occasionally become necessary and are noted by a revision date.