Watch TPA Meetings Live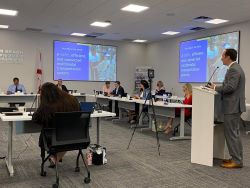 Palm Beach TPA Governing Board and Committee meetings are streamed on our website. To see upcoming meeting dates and times and to watch meetings live, visit PalmBeachTPA.org/LIVE.
---
ADOPTED: Fiscal Years 2023-2027 List of Priority Projects
The FY 2023-2027 List of Priority Projects (LOPP) is adopted as of July 15, 2021. The document was presented at the July committee and Governing Board meetings. Click here to view the FY 2023-2027 LOPP.
---
2021 Legislative and Policy Positions
In anticipation of a new 5-year Surface Transportation Authorization Bill, the TPA Board approved its 2021 legislative and policy positions on March 18, 2021. Click for details
---
Community Profiles Dashboard
The Community Profiles Dashboard provides easy access to socioeconomic data, maps of transportation facilities, and Transportation Improvement Program (TIP) projects for each municipality and County commission district.
---
2021 TPA Meetings Calendar
The 2021 TPA Meetings Schedule has been posted to the website at the Calendar link, including a single-page printable version for the year. Please note that updates occasionally become necessary and are noted by a revision date.